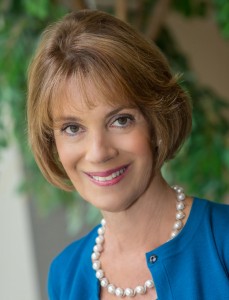 A native of Los Angeles, Judy graduated from Santa Monica schools and the University of California at Berkeley with honors, having distinguished herself throughout her entire school career by leadership activities as well as high scholastic achievement. Degrees in English, French and Spanish have provided Judy with a solid base for the challenging and complex nature of today's complex real estate marketplace.
Judy understands the need for attention to detail, for accurate, timely representation and for providing comprehensive, professional service to her clients. An enormous roster of repeat and referral clients is a testimonial to her achievement of those goals.
Judy's knowledge of real estate on the Westside, especially in Beverly Hills, and Bel Air has earned her a position of respect not only with her clients, but also among her peers. Judy is frequently called upon to assist colleagues with property evaluation, pricing, strategy and market trends. Keeping up with the industry is a function of education everyday by seeing new properties, being aware of the multiple listings, as well as knowing of homes not yet on the market.
During Judy's career, she has received wide recognition and awards for her achievement. She has been named to the International President's Elite year after year and to the top 100 in Southern California among 4,100 agents. Judy is an Estates Director of Coldwell Banker Global Luxury. Judy is backed by the enormous resources of the nation's number one real estate company. She epitomizes the ideal of the top producer in the industry: smart and stylish, an informed listener and an aggressive, cool-headed negotiator.
Judy has never been a stranger to hard work. Asked why she is so dedicated, Judy explains "I love people. I love my work. I am used to working under pressure, meeting deadlines and making critical decisions in complex situations. It is simply a matter of doing my homework and treating people as I like to be treated – with honesty and compassion. Everything else falls right into place."
During her over 35 years in practice in Beverly Hills, clients find the combination of Judy's knowledge and her low-key style well suited to the highly charged nature of the Westside market. She is an expert in dealing with highly visible executives, high profile clients as well as foreign nationals, all of whom require the utmost discretion. She is committed to providing the ultimate in service, going the extra mile to accommodate whatever needs arise from a transaction, insuring a client's total comfort during the transition period. Judy provides the most professional and dedicated service to her clients – Buyers and Sellers – whatever and wherever their needs may be.